When I was in highschool, I was told by two people that I looked like Cameron Diaz.
Despite the fact that I was told by a manic depressive on anti-psychotics with suicide scars up his wrists, and a friend who once got so drunk she made out with an old guy on an air conditioner without realizing he was missing his front four teeth, I felt that the description was accurate.
When I was in college, I was told that I looked like Jodie Foster.
Despite the fact that I thought she was a lesbian, and that I was told by a manic-depressive melodramatic obsessive teenager with thinning hair who cried a lot, I was still flattered.
But the other night, a very drunk, loud yuppie with that stupid Hoboken button-down shirt was trying to pretend he was hip and told me that I looked like Dweezil Zappa's wife, an actress whose name he couldn't remember. Upon research, I found out that Dweezil is not married to an actress at all, but a one-hit-wonder named Lisa Loeb.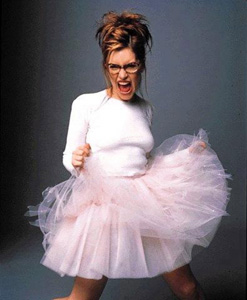 This is not a compliment. Firstly, I don't wear glasses. She's probably cross-eyed. Secondly, "Stay" was maybe the worse song of the '90's out of many. Thirdly, who even talks about Lisa Loeb anymore? That's why the picture's pixelated--it's so small because no one cares about her. Also, I have red hair and blue eyes and I hate acoustic guitars.
So look, yuppie. Please hang yourself with your ugly button down shirt. You probably starch the collar enough to slit your throat.